Another Successful Fielding Alumni Network Event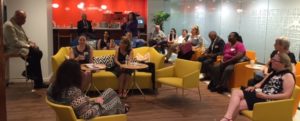 Fielding's Alumni Regional Network event in August at the Fielding office in Washington, DC, welcomed over 30 attendees including faculty, students, alumni and Board members. School of Leadership Studies doctoral faculty, Connie Corley, PhD, opened the evening by engaging everyone in a round of self-introductions followed by a short presentation about her involvement in the Positive Aging Conference which was held the following weekend.
Fielding host and Vice President for Strategic Initiatives and Research Orlando Taylor, PhD, discussed an array of recent grants received through Fielding's Marie Fielder Center for Democracy, Leadership, and Education. These efforts are leading to exciting opportunities for Fielding to participate in leadership development and contribute
to research grants from the National Science Foundation. Dr. Taylor also shared about the recent collaboration between Fielding and the University of the Virgin Islands.
Fielding Board of Trustees members Wayne Patterson, PhD, Leonard Haynes, PhD and Keith Earley, PhD were also in attendance. Dr. Earley, who is also a Fielding alumnus (HOD 2015), discussed his Fielding journey and post-doctoral pursuits, as he challenged other alumni and students to think about their journey.
Alumna Loretta Hobbs, PhD (HOD 2013) and Fielding Chesapeake student coordinator and doctoral student Becky Reese were responsible for the development and
facilitation of the hugely successful interactive small group breakout discussions on topics of research, publishing, and funding; social justice; environmental advocacy; and the post-Fielding journey. These enthusiastic, spirited sessions proved to be effective networking through which people exchanged business cards to follow-up on joint projects and job opportunities and for continued connection. Based on the feedback from the participants, it was clear that the Fielding community thoroughly enjoyed their time together and are already making plans for the next event!

Would you like to get involved with the Washington, DC/Baltimore Fielding Regional Network? Contact the Office of Alumni Relations at alumnirelations@fielding.edu or call 805.898.2947 for more information.
Join Over
7,500 Fielding Alumni
Located Around The World!
Change the world. Start with yours.™