Fielding alumni kick off summer in Washington, D.C.
To kick off this year's annual Fielding Summer Sessions, the Office of Alumni Relations worked with the Chesapeake cluster, local alumni, and the Office of Sponsored Programs and Special Projects to host a special event focused on interdisciplinary natures of research development at Fielding.
Speaking to a packed room of alumni, students, faculty, and prospective students, at the Fielding office in Washington, D.C., President Rogers provided a high-level overview of Fielding's goals around research development and approach to increase the visibility and reputation of the University nationwide. She shared how leadership development around diversity and inclusion is a major component of this strategy. Vice President Orlando Taylor described how Fielding came to receive funding from the National Science Foundation and the Kettering Foundation. Media Psychology Program Director Jerri Lynn Hogg shared how the Kettering project made an impact on and beyond the media psychology program. Director of Sponsored Programs and Special Projects Katherine McGraw discussed how students and alumni can access services of the Office of Sponsored Programs to identify funders and develop and submit research funding proposals.
The School of Psychology hosted their Summer Session in Alexandria, VA, and opened up several evening events to alumni from all programs for the first-ever Clinical Psychology Alumni Summer Series.
Local alumni attended several evening events including a discussion lead by faculty members Ray Hawkins who discussed the linguistic aspects of Jung's theory and Sandy Drob who explored Jung's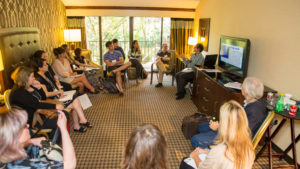 understanding of dream and imaginative imagery.
Marilyn Freimuth, Ruthellen Josselson, Judith Schoenholtz-Read, Margaret Cramer, Sherry Hatcher, and Stephen Ruffins lead the Psychoanalytic Case Conference which focused on an in depth case presentation by a current student in the psychoanalytic training program
This year's Alonso Center Event featured a talk given by Ruthellen Josselson who shared her experiences teaching group therapy in China. Ruthellen also held a book signing and conversation hour around her latest book Paths to Fulfillment: Women's Search for Meaning and Identity, a 35-year longitudinal study of women's identity.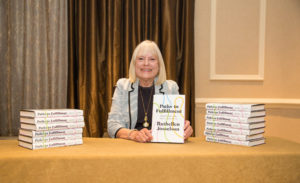 The final event of the Clinical Psychology Alumni Summer Series 2017 closed with Wounded Warrior guest speaker Jennifer Mackinday, whose brother, James Smith, suffered multiple injuries in Iraq while on a mission with his Army Stryker Combat Brigade.
Thank you to the Clinical Psychology program for opening up your sessions to alumni!
Join Over
7,500 Fielding Alumni
Located Around The World!
Change the world. Start with yours.™