BY PAM RUTLEDGE, PHD
Doctoral faculty, Media Psychology
JULY 21, 2020
What I Learned from the Virtual Media Psychology Symposium.
An online symposium has the same benefits as online education, wider reach, easier access and better content.
Now that Fielding Graduate University's first Media Psychology Symposium is over, I have time to reflect on the experience. The Symposium was held virtually over two days (July 16 & 17) on Zoom, rather than in Chicago in-person, due to COVID-19. COVID or not, however, I think a virtual Media Psychology Symposium is really the way to go. Not only is virtual connectivity thematically appropriate with media psychology, but by going virtual, we had presenters and attendees from the UK, Europe, India, and the Middle East, along with those from across the U.S. The virtual format saved travel time and money and made it possible to have two stellar keynotes, one by top Hollywood marketing executive Bettina Sherick from LA and risk-perception scholar and another author Ellen Peters from the University of Oregon on consecutive days.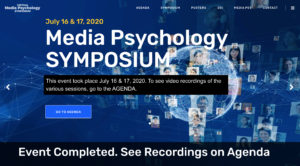 We are so conditioned to think that what we're used to is the 'right' way to do things. When it comes to conferences, without a doubt, in-person has many benefits. It's time to challenge our preoccupation with the rearview mirror. Every introduction of new technology unleashes an avalanche of analysis looking for what was 'not as good' as the old way, rather than for the gains.

The Pressures in the World Today
The pressures in the world today, however, suggest that our mental health and economic recovery depend on our ability to find the upside–our adaptivity, innovation, and resourcefulness. The symposium being virtual made it possible to have a richness of content, talent, and size of audience unconstrained by travel costs or large time commitments. It was exciting to see so many non-US contributors to panels and networking sessions. In spite of trepidations, our biggest issue turned out to be our own ability to do the math to sync time zones. Thanks to a crackerjack team on the technical and organizational ends, the virtual event went seamlessly, and we learned all kinds of things about running breakout rooms and conversation hours.
I shouldn't have been surprised. Fielding's entire media psychology program has always been a hybrid – taking advantage of a balance of online course delivery and in-person seminars. The hybrid program allows a student to balance an existing life (family, career, and social) while developing new skills and intellectual capital, just like it allowed people to participants to attend a symposium without taking a few days off work or paying for a plane ticket and hotel room.
For me, the flexibility of Fielding's hybrid environment is ideal as it allows for the same benefits we saw in the symposium. You can be two places at once. I balance my professional life with one foot in the consulting world and the other in academics. In a virtual world, I can move fluidly between them. It allows me to mark my progress by what I learn and the problems I solve in my consulting practice and use these experiences to enrich the courses I teach.
COVID, of course, means that every academic institution is scrambling to go online. At Fielding, we are not scrambling or "converting" our program to an online platform. We are already experts in distributed learning with rigor and personal connection. Fielding has spent years developing a robust and powerful online curriculum and course delivery system with regional seminars to provide face-to-face contact. While the face-to-face seminars are temporarily on hold for health and safety reasons, our program is largely undaunted by the constraints of the pandemic. Many of students are using the involuntary 'time-out' of COVID-19 to as an opportunity to retool for the post-pandemic future. It will be a long time before society returns to anything resembling pre-pandemic life. Many of the changes adopted to cope with the pandemic will have a lasting impact. The rapid adoption and acceptance of media technologies from telecommuting and telehealth to Zooming with Grandma will change the best practices across many industries. This puts media psychology front and center in determining the physiological, technological, and psychological costs and benefits of new social patterns.
A hybrid program also means that a much more diverse range of students. Media psychology is a broad field that is the core of issues across the spectrum of mediated experience, from entertainment media, digital behaviors, and immersive experience to usability and technology design. Just like the symposium, the media psychology program draws students from around the world and across industries. Any given group will include people with a psychology background but no formal media, media training but no formal psychology and people with neither who have a specific area of expertise that they want to learn how to use media to leverage. One student focuses on media psychology to leverage the field of nutrition; another to support work in anti-terrorism in the military and still another to develop online communities to support LGBTQ wellness.
Media psychology allows us to incorporate our background, skills, interests, and experiences into an integrated and theoretically-based framework that impacts everything we do. I came to media psychology after careers in communications/visual design background, business, and clinical psychology. I ended up finding my intellectual home in media psychology. The link between media technologies and human experience was the recurring theme throughout my various careers. Media psychology was the perfect nexus.
ABOUT THE AUTHOR:
Join Over
7,500 Fielding Alumni
Located Around The World!
Change the world. Start with yours.™