Diversity advocate, educator honored for social justice work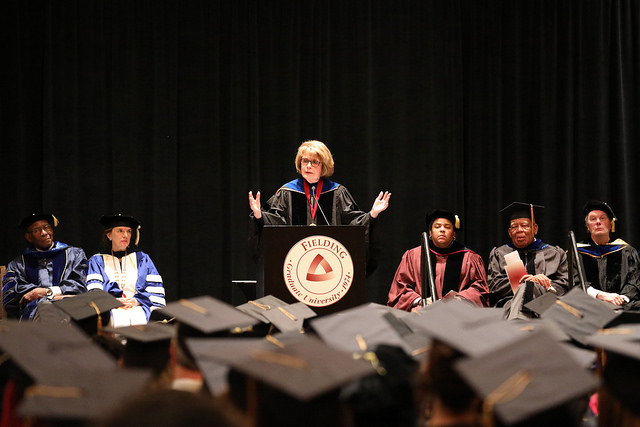 Chicago, IL — On July 21, University of Michigan Distinguished University Professor Patricia Gurin, PhD, received the 2018 Marie Fielder Medal for Social Justice. She was honored by Fielding Graduate University's Marie Fielder Center for Democracy, Leadership and Education for her professional dedication to social justice work, including advocating for diversity in higher education.
The award was presented during Fielding's graduation convocation in Chicago, Ill., following the university's week-long national session, where students, faculty and alumni from all over the world gathered for workshops in leadership and education, as well as intergroup dialogue on diversity and inclusion.
"Dr. Gurin's landmark work, along with her colleagues, demonstrates perfectly how high-quality and innovative social science research, advocacy and practice can be used to impact the law and advance social justice," said Dr. Orlando Taylor, director of the Marie Fielder Center and Fielding's vice president for strategic initiatives and research. "Moreover, it is consistent with the noble mission of Fielding and the goals of the Marie Fielder Center."
Dr. Gurin is the Nancy Cantor Distinguished University Professor and the Arthur Thurnau Professor Emerita at the University of Michigan. A social psychologist, her research focuses on social identities in individual and collective behavior, political mobilization of groups traditionally underrepresented in U.S. politics and the educational and social implications of diversity in both higher education and broader society.
She also teaches and directs research in the Program on Intergroup Relations, which developed the intergroup dialogue curricular method, now being applied at more than 100 universities.
"I am so honored to receive this award," Dr. Gurin said. "Marie Fielder's life and work represent everything I believe in: a commitment to social justice and the inclusion of everyone in democratic institutions and practices." Her speech at convocation also emphasized the importance of intergroup dialogue skills in helping us understand group-based inequality, foster empathy and bridge differences, and practice coalition-building.
#     #     #
The Marie Fielder Center at Fielding Graduate University is a multidisciplinary research and advocacy center aimed at advancing diversity and inclusion throughout society. It honors the life and legacy of the late Dr. Marie Fielder, an influential African American educator and champion for social justice who helped found Fielding 45 years ago.
MEDIA CONTACT: Starshine Roshell, Media & Communications | sroshell@fielding.edu 805.898-4076 | fielding.edu
Join Over
7,500 Fielding Alumni
Located Around The World!
Change the world. Start with yours.™