Fielding students and alumni enjoyed a three-day somatics intensive at La Casa De Maria in Santa Barbara this summer.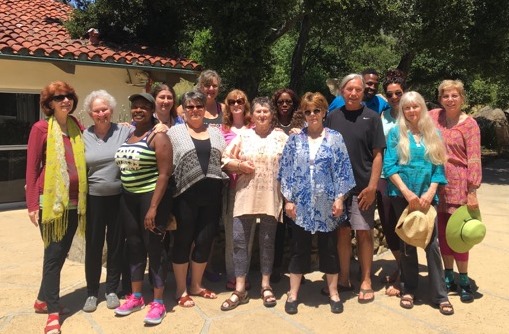 The seventh annual somatics retreat focused on the body-mind-soul connection through Kundalini yoga, led by Human and Organizational Development (HOD) faculty member Valerie Bentz, head of Fielding's Somatics, Phenomenology, and Communicative Leadership concentration.
Psychology alumna Evelyn Beck led sacred circle dancing from around the world, and participants were able to sit under a tree dedicated to the memory of Fielding faculty member Will McWhinney.
Pictured above, from left to right: Fielding faculty member Connie Corley, alumna Martha Sherman, students Milly Mocodean, Susan Hoskinson, Carol Estrada, Tighe Guryan and Megan Henkin, alumna Evelyn Beck, students Carolyn Elliott, Ellema Neal, Craig Morrison, Cleveland Sigh and Kymberly Amouris, facilitator Francesca Bolognini, and faculty member Valerie Bentz.
Join Over
7,500 Fielding Alumni
Located Around The World!
Change the world. Start with yours.™