Patrice Rosenthal, PhD, a faculty member in Fielding's Human and Organizational Development (HOD) program, takes over today as HOD Program Director in the School of Leadership Studies. She takes over for outgoing director Dorothy Agger-Gupta, PhD, who is returning to a core faculty position after four years of committed work in the role.
Dr. Rosenthal joined Fielding six years ago as research faculty and quickly became known for her passion for research design. "I love to have conversations about research. It's a great puzzle!" she says. "Research is just fun — in a nerdy kind of way."
She takes on her new role at a time when HOD is welcoming five new faculty members (three full time and two part time), and enrollment is on an uptick.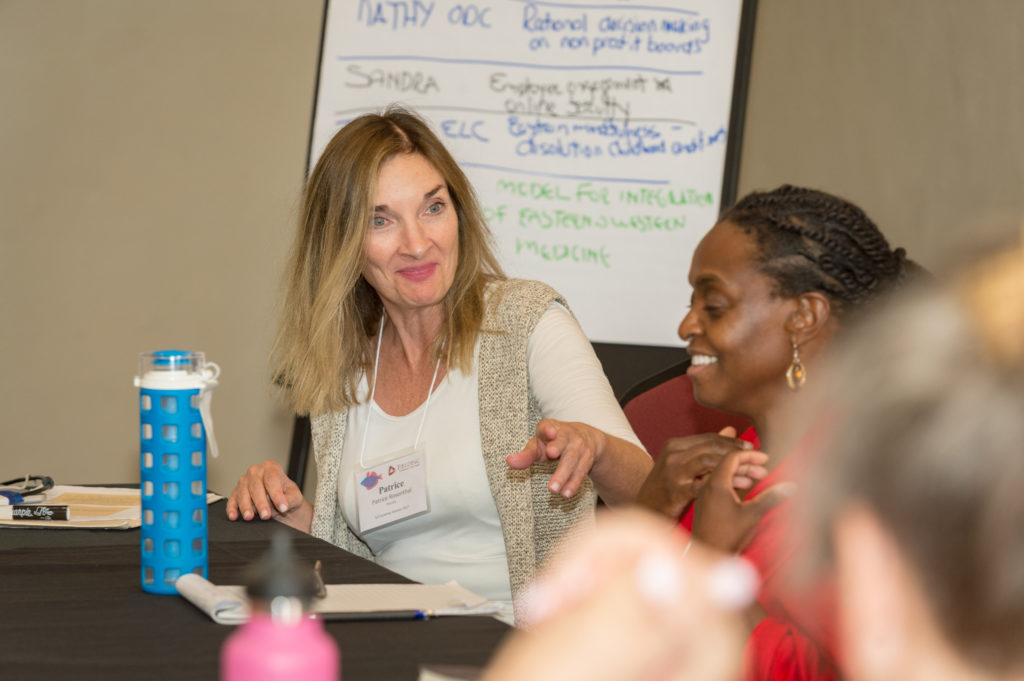 "It's a nice time to step in," says Dr. Rosenthal, who took on the job for two reasons: "Love and obligation. I love Fielding. I love how it connects these wonderful, complicated, tantalizing notions of scholar-practitionership, progressive education, and the possibilities of transformation mid-life. It's wonderful to be part of a place that brings those ideals to life — as difficult as it is."
Some of her priorities during her stint at the helm will be
Strengthening the internal capacity of HOD. This includes reinvigorating the shared leadership governance structure, including student participation in governance. "It's about structure and organization and decision-making," she says, "and making us more effective and more efficient—not a word you often hear at Fielding!"
Using the strengthened capacity to improve the student experience.
Strategic development of the HOD programs.
But don't expect Dr. Rosenthal to entirely give up that research she loves so dearly.
"At the moment I sit on a lot of dissertation committees, which is my absolute favorite part of my job," she says. "The wonderful variety of great questions our students ask about the world lets me learn about all sorts of things. And I can sense that I'm able to be helpful."
In her new position, 25% of her time will remain devoted to helping students with their research. "And I'm gonna hang on to that part for dear life!" she says, laughing.
Join Over
7,500 Fielding Alumni
Located Around The World!
Change the world. Start with yours.™