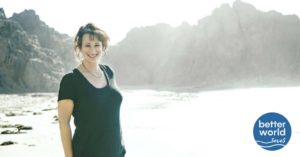 Fielding is proud to sponsor an intimate gathering with Renee Lertzman, PhD., on March 16 in Santa Barbara. An internationally recognized thought leader and adviser who translates complex psychological and social science research insights into clear, applied and profound tools for organizations around the world, Dr. Lertzman will speak on "Ecopsychology: The Art of Communicating for Planetary Protection" at LoaTree (508 E. Haley) from 6 to 9pm as part of the Better World series.
How can understanding psychology help us be more effective in shaping behaviors and actions that are in line with what's best for our communities and planet earth? Understanding human behavior at the deepest levels is no longer an option. It's an imperative. Do our current approaches undermine our efforts? Are we missing opportunities? When it comes to meeting our most urgent ecological challenges, our engagement and communications efforts require a fundamental fluency in how people not only think, but feel about our changing world.
The greatest barrier facing engagement is not more education or awareness-raising. It's how people may find it hard to process such challenging information, such as climate change threats, water and food security, threats to wildlife conservation, or our relationship with energy.
How people engage and respond to these issues is not a direct measure of their care or concern, but rather self-protection mechanisms. Providing "little steps" can backfire and erode credibility, when people can see the scale and magnitude of our challenges. Establishing authentic connection and engagement with stakeholders requires a new level of honesty, compassion and a vulnerability in our communications, outreach and credibility. Lertzman's talk will focus on how we make these connections and build bridges towards healthier and more sustainable communities.
Lertzman has been featured in NYT, The Guardian, Washington Post, TIME and many more impressive publications. You can read more about her here.
Tickets to the event are $25 and are only available online (they will not be sold at the door). Fielding is sponsoring the event with the Santa Barbara independent.
Join Over
7,500 Fielding Alumni
Located Around The World!
Change the world. Start with yours.™