Join Fielding's Dr. Jean-Pierre Isbouts on a journey from Athens to Abu Dhabi
Join Dr. Jean-Pierre Isbouts and your fellow Fielding friends on the Crystal Symphony, sailing from October 11 to 27, 2021, to the Middle East. This 16-night cruise will take us from Athens to Crete, the Suez Canal, Petra and Wadi Rum (Jordan, 2 days); Luxor and Karnak (Egypt, 2 days) and on through the Red Sea and the Gulf to Oman, Dubai and Abu Dhabi (where we can visit the beautiful Louvre Abu Dhabi Museum).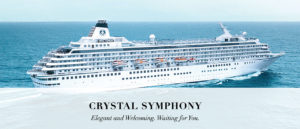 Crystal Symphony is a beautiful ship, just 848 passengers, it has terrific cuisine, and of course, wines, cocktails, etc. are included.
If this journey has your interest, join Dr. Isbouts and director of development, Elena Nicklasson, for a Zoom meeting on Tuesday, August 25 at 10:00 am Pacific.
Here is some more information about this cruise. To see the complete itinerary, please click 16-night cruise.
Special Fielding Offer
Glinda Holstein, a Crystal Cruises representative, has developed a special offer for our Fielding group, as follows:
If at least ten (10) people from our group decide to book this cruise (at the special group prices listed below), each cabin will receive an $800 on-board credit that can be used for excursions and on-board purchases.
With 10 people traveling, Fielding will receive the equivalent of a single-person fare (around $5,000). If we have 20 people traveling, they will double the amount. So this could be a significant fundraising activity for Fielding.
All bookings will be made through Glinda Holstein, who is based in Florida and is very responsive via both phone and email: 1-800-338-4962 ext. 7377, or gholstein@vacationstogo.com. Alternatively, please visit the

Fielding Egyptian Cruise 2021-53601 Website

:

https://secure.vacationstogo.com/vtg/group/home.cfm?uuid=1F90E1A6CCF93FEB08B90D8270C63AA6

Once you make a reservation, please let us know by emailing

giving@fielding.edu

. We will organize Fielding group meetings in preparation to the trip.
Per-person fares start at $5,599 and go all the way up to penthouse cabins with private butlers, but the demand is high. As Glinda noted, there are hundreds of folks who had their cruises in 2020 canceled and are now looking to apply their cruise credit to 2021 sailings.
To ensure that there is a fair spread of cabins available for us, she put a temporary hold on a group of cabins that are still priced as originally quoted. That custom price list (which is lower than published prices) can be found here. The left tab (Cabin 1 Oceanview for 2 Guests) shows Category D cabins, and the other tabs show cabins with verandas.
This hold (and the fare freeze) is good for 2 weeks. To book a cabin, all that is needed now is a refundable deposit of $50 per cabin on the cabin category of your choice. Our group number is 53601, which should always be quoted to ensure we get the group offer.
Questions? Contact Elena at giving@fielding.edu or 805.898.2926.
Join Over
7,500 Fielding Alumni
Located Around The World!
Change the world. Start with yours.™