The pursuit of a more just and sustainable world is a key element of Fielding's mission and vision. And of course, the university has a doctoral concentration in Leadership for Social and Ecological Sustainability.
So when it comes to serving students, faculty, and alumni visiting Winter Session, we look for every opportunity to make environmentally responsible choices.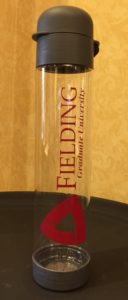 Did you know that Fielding uses graduation regalia made from recycled materials, produces electronic versions of daily forms and paperwork whenever possible, and sells BPA-free re-usable Fielding bottles at the registration desk for $5?
In addition, The Fess Parker DoubleTree hotel, where Session is held, is an official member of the Green Lodging Program of California with the following sustainable practices:
offering guests the option to have linens laundered less frequently, and using reclaimed water for laundry
recycling paper, cans, and bottles, and composting food waste
serving filtered water in glasses, rather than plastic bottles
irrigating landscaping with reclaimed water, and opting for disease-resistant plants rather than using pesticides
If you have suggestions for more sustainable practices, please send them to Starshine Roshell at sroshell@fielding.edu
Join Over
7,500 Fielding Alumni
Located Around The World!
Change the world. Start with yours.™