ELC Faculty Member Shares His Philosophy on Changing Our Personal Perspectives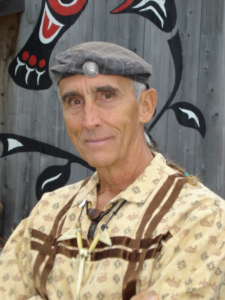 It's a busy month for Educational Leadership & Change faculty member Four Arrows, PhD. In addition to making two international presentations, he is the subject of a brand new book about his life.
All of these endeavors share a common theme in spreading Four Arrows' life philosophy of living to our full potential in relation with all sentient beings.
The new book, Fearless Engagement of Four Arrows: The True Story of an Indigenous-Based Social Transformer by R. Michael Fisher offers a unique strong "medicine" for the reconstruction of a healthy, sane, and sustainable future for all.
Using the form of an intellectual biography of Four Arrows (aka Dr. Don Trent Jacobs) and his daring activist life and teaching stories, the author creates a powerful adventure into the passionate philosophy, activism, and emancipatory inspirations of Four Arrows, whose unique experiences include firefighting, white-water kayaking, wild horse training, world-class athletic competitions, and counter-cultural activism. The book shows how he walks a universal ethical path of fearlessness at a time when too many remain trapped by their fears. All proceeds go to support Indigenous causes.
Here's a trailer for the book:
On Sept. 28, Four Arrows will give an interactive presentation on "Why 'Indigenizing' Curriculum and Instruction Is Vital for Our Survival" at the University of British Columbia for the Department of Curriculum's seminar series.
The presentation will clarify the various meanings, goals, concerns and potential outcomes relating to school-wide efforts to "teach" the relevance of Indigenous worldview, knowledge and perspectives. Ideas on foundational ways to transform learning accordingly are also introduced.
On Oct. 4, he will give a talk on "Radical Empathy" in Bristol, England, at the Schumacher Institute's and Spirit of Humanity Forum's event "Sacred Activism & the Freedom to Love: The relationship between science, spirituality and sustainability."
Here's a preview of his talk:
https://www.youtube.com/watch?v=i7IIKrWFgik
Join Over
7,500 Fielding Alumni
Located Around The World!
Change the world. Start with yours.™