September 15-October 15 is Hispanic Heritage Month. As part of our ongoing efforts to help build a more just and sustainable world, the Building Inclusion Collaborative invites you all to a film and conversation about LatinX heritage from 11 am – Noon Pacific time on Sunday, September 16.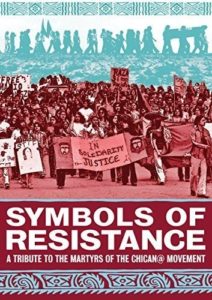 A clip from the film "Symbols of Resistance: A Tribute to the Martyrs of the Chican@ Movement" will be shown, after which invited LatinX members of the Fielding community will share their own "movement" experiences. The floor will then be opened to attendees for comments. This promises to be a rich conversation as many within Fielding come from different regions of LatinX culture. Log in via Zoom (more login options below).
Panel participants:
Patricia Arredondo, Fielding Faculty Fellow
Gloria Bravo-Gutierrez, Fielding Alumna
Placida Gallegos, Fielding Faculty, School of Leadership Studies; Chair, Inclusion Council
Tomás Leal, Fielding Trustee
Sonya Tinoco, Fielding Staff
Rosa Zubizarreta-Ada, Student, School of Leadership Studies
Victor Mitre, Fielding Student, School of Leadership Studies  (Tentative)
Comment from Tomás Leal, Fielding trustee and panel participant:
The period between September 15 through October 16 is an opportunity to recognize and highlight the many contributions of the Latinx community to what I believe truly makes America great. The greatness of this country comes from the rich, diverse multicultural communities that contribute to the very essence of what the U.S. is about.

As I reflect on the BIC/Inclusion Council events during summer session this year, I am reminded of how far we have come and how much more work is still needed in the inclusion, equity and diversity space. As a Fielding public trustee, I believe in the importance of open and honest discourse as a crucial part of culture change, thus we must commit to leaning in and struggling through the issues in the spirit of Fielding's values around social justice, inclusion, equity and diversity. 

I look forward to participating on the panel as an individual from Latinx heritage and share my participation in the Chicano movement and its lasting impact on the work I do now.
Among the long list of important research on these issues by Fielding graduates, here are a few notable dissertations that can be found in our excellent library:
You can also learn more about Hispanic Heritage Month here.
Don't forget to follow and contribute to the conversation throughout the month on the Fielding Facebook group.
Log-in options for Zoom event:
Join from PC, Mac, Linux, iOS or Android: https://zoom.us/j/131933352
Or iPhone one-tap :
US: +16465588656,,131933352#  or +16699006833,,131933352#
Or Telephone:
Dial(for higher quality, dial a number based on your current location):
US: +1 646 558 8656  or +1 669 900 6833
Meeting ID: 131 933 352
International numbers available: https://zoom.us/u/eqUzI9jaS
Or an H.323/SIP room system:
H.323:
        162.255.37.11 (US West)
        162.255.36.11 (US East)
        221.122.88.195 (China)
        115.114.131.7 (India)
        213.19.144.110 (EMEA)
        202.177.207.158 (Australia)
        209.9.211.110 (Hong Kong)
        64.211.144.160 (Brazil)
        69.174.57.160 (Canada)
Meeting ID: 131 933 352
Join Over
7,500 Fielding Alumni
Located Around The World!
Change the world. Start with yours.™