By Katrina Rogers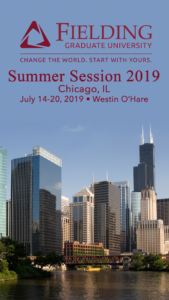 We are a community of many parts but it all adds up to a beautifully complex tapestry. This idea was evident in our actions at summer session this year.
From the staff and faculty who started early to prepare for session, to the students who are working 24/7 and gearing up for their time with faculty, to time visiting with trustees, and being with alumni—many of whom also presented at session and of course, to welcome external colleagues.
The theme that emerged for me from this year's summer session is dialogic communication. Dialogic communication in the form of thoughtful conversations:
Among administrative, academic, and senate leaders and faculty about the academic re-organization and between the Provost and students and as well as faculty bodies; and between and among faculty and students about their work.
In addition, spaces were created for dialogic communication in so many settings. Among the many highlights:
Final oral reviews for our new graduates –original research in clinical psychology, education, organization development, media psychology, and leadership.
The presentation given by clinical psychology faculty member Dr. Margaret Cramer on soma and psychotherapy.
The panel sponsored by the Sustainability Working Group on issues of migration and ecology.
The discussion about diversity and inclusion informed by data gathered from the student experience report.
The space made by faculty to examine cultural humility and the learning environments they create.
The conversations held about white fragility, ably led by our faculty members and colleagues –for example, our CDO Tomás Leal.
The culmination of this theme of dialogic communication occurred at convocation with the speaker and honoree, Dr. Talithia Williams, upon whom we conferred an honorary doctorate.  Dr. Williams, Associate Professor and Associate Dean for Research and Experiential Learning at Harvey Mudd College, challenged us in her talk to broaden our understanding of the data created by social and behavioral scientists and used to make policy and in other decision-making that effects all our lives.  This scholarly link between data and decisions wrapped up a series of so many rich and complex discussions held throughout the week.
But summer session is just one place where we do this kind of engagement. As just one example, I want to announce that on September 12th, Our Provost Monique L. Snowden will be hosting a discussion open to all on how communication creates positive change.
For more information, please see the following link:
https://alumni.fielding.edu/eventsx/healing-communication-a-scholar-practitioner-approach-45th-anniversary-fielding-gathering/
Wishing you all a good month.
Join Over
7,500 Fielding Alumni
Located Around The World!
Change the world. Start with yours.™