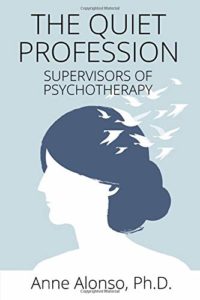 We are pleased to announce the publication of The Quiet Profession by Fielding University Press. Originally published by MacMillan in 1985, the book by Fielding alum and faculty member Anne Alonso had been out of print for quite some time when President Katrina Rogers and Fielding's Alonso Center for Psychodynamic Study initiated the process of recovering the rights.
For this second edition, Anne's text was updated with a Preface by beloved School of Psychology faculty member Margaret Cramer, director of the Alonso Center, and an Introduction by faculty emeritus Sam Osherson, the Alonso Center's former director.
As Margaret writes, this second edition is timely, for Anne's philosophy of teaching and supervising focuses on the potential of relationships to heal, and on the ways that feeling creates profound and transformational personal growth. Psychodynamic psychotherapy is learned through a kind of apprenticeship, one in which the supervisor functions as a mentor and model for the supervisee. It is Anne's belief, and a tenet of psychodynamic theory, that through this often silent but steady way of listening, the psychotherapist helps patients to begin to tell the only story of their life that really matters.
We are proud to re-publish The Quiet Profession as part of our new slate for 2019. The book is available from Amazon; a Kindle version will be released by the end of January.
Join Over
7,500 Fielding Alumni
Located Around The World!
Change the world. Start with yours.™