Virtual Help Desk
We are here to help you with questions.
Welcome to the Session Virtual Front Desk!
We are here to help you with questions.
There are two ways to get assistance: email support and Frequently Asked Questions (FAQ).
Email Support: For assistance with Zoom or if you cannot get into a seminar, event, or presentation you can email the virtual front desk at sessionfrontdesk@fielding.edu
If you send an email to sessionfrontdesk@fielding.edu please provide:
Your complete name and Fielding role (student, alumni, faculty, staff)
A detailed description of the issue for which you need assistance
The front desk will be available to offer assistance during the following hours:
January 9-15, 2022
Sunday – 7:30 am — 4:30 pm (Pacific Time)
Monday through Friday – 7:30 am – 4:30 pm (Pacific Time)
January 16-22, 2022
Sunday (Jan 16) – 9:00 am — 6:00 pm (Pacific Time)
Monday through Friday (Jan 17-21) – 8:00 am – 6:00 pm  (Pacific Time)
Saturday (Jan 22) – 9:00 am — 3:00 pm (Pacific Time)
Virtual Sessions FAQs for Attendees
Attendance and Schedules
admin
2022-01-05T17:14:13-08:00
Q: How can I find out what I signed up for?
A: Log into my.Fielding.edu and go to the WebAdvisor tab for Students, under Session Registration and Reports there is a link to your Individual Student Seminar Schedule.
Q: How can I add a seminar after the registration deadline?
A: After the registration deadline there will be no changes permitted to individual schedules.
Q: How can I drop a seminar I registered for but can't attend?
A: Email registrar@fielding.edu with the information regarding the seminar you need to drop.
Q: What are the time zones of the various sessions?
A: All times are Pacific Time Zone.
Q: How can I find out if I get credit for attending a seminar?
A: Attendance at seminars will only be tracked for Psychology seminars that are directly tied to academic credit (all 710s, RSSs, and PALs), and for additional non-credit seminars tied to training, such as training days, case conference hours, or concentration seminars. Credit (grades) are given by the faculty for credit-bearing offerings based on attendance and any other requirements of the course.
Q: Can I get any kind of residency hours for this virtual session?
A: At this time you can log virtual residency hours only, a max of 8 per day for any day you are registered in a class. These virtual residency hours will not be included as part of your residency hour totals for the graduation requirement. However, you should still log them in case the APA makes exceptions in the future due to the pandemic. For more information about current status with residency hours see: https://my.fielding.edu/Academics/Psychology/ResidencyHours/Pages/default.aspx
Q: Will seminar recordings be available afterward for students who couldn't attend? If so, how do I access them?
A: SLS: Many of the seminars will be recorded and available in Moodle afterwards. If the presenting faculty decides the information being shared is sensitive and would violate student privacy laws, they may decide to stop the recording and/or not post it. SOP: Recordings of seminars for academic credit as necessary will be posted to the classroom Moodle space. This does not alleviate the student from attending the seminar if it is required for credit in the class. See your classroom policies on required attendance.
Virtual Sessions FAQs for Faculty
Can I share my Zoom meeting information with other people?
admin
2022-01-05T17:20:19-08:00
A: No, unless the event is open to the public you are not permitted to share Zoom information with anyone else. To do so could be a violation of federal student privacy laws. If the person is another student in the class, they should be contacting our virtual help desk for assistance.
How do I log into my Zoom account?
admin
2022-01-05T17:21:12-08:00
A: You can log into Zoom and join a meeting by clicking on the meeting link that is sent to you. If you have Zoom downloaded to your computer it will give you the option to open it that way. If you do not have it on your computer, you will be taken to a Zoom webpage and you can follow the prompts there to join the meeting.
How can I get help logging into Zoom?
admin
2022-01-05T17:22:21-08:00
A: Please visit the Virtual Session Help page, where you will find Zoom resources as well as access to our virtual help desk. You can always email support@fielding.edu with your questions.
Where can I find the Zoom information for my seminar?
admin
2022-01-05T17:23:23-08:00
A: SLS: If you lose this information, contact sessionfrontdesk@fielding.edu prior to the seminar.  All the Zoom meeting information for community/open events will also be listed in a master document on the Session webpage.
What do I do if my internet isn't working?
admin
2022-01-05T17:24:20-08:00
A: If your internet isn't working or doesn't have a strong connection, you can either join a meeting via phone or use your cell phone as a wifi hotspot. To find the phone number for you meeting, you can reference the original invite. Using your cellphone as a hotspot varies by brand and carrier but can usually be found in setting under the wifi option.
How do I get my mic to work?
admin
2022-01-05T17:25:05-08:00
A: When you join a meeting it should automatically use your computer's audio. If you have an external mic, you can select that from the audio features in the bottom left corner of the meeting screen.
How do I turn on/off my video?
admin
2022-01-05T17:25:56-08:00
A: At the bottom left of the meeting screen, there is an option to turn your video on and off as well as select where the video is coming from (laptop camera or external camera).
How do I mute and unmute myself?
admin
2022-01-05T17:27:00-08:00
A: Click on the mic icon at the bottom left to mute and unmute yourself. You may also be muted by the host.
Can I send a private message during a meeting?
admin
2022-01-05T17:27:56-08:00
A: Yes, the chat function has the option to choose who you can send a message to.
Can I record the seminar?
admin
2022-01-05T17:28:41-08:00
A: If you are the host of a meeting, yes you can record the seminar.
How do I share my screen?
admin
2022-01-05T17:35:41-08:00
A: In the host control panel there is a button that says "screen share" if you click on it, it will show you all the open windows on your computer and you can select which ones to share. Note that if a co-host is sharing their screen, they must turn it off before you can share yours.
For video tutorials and handouts on the use of Zoom and Moodle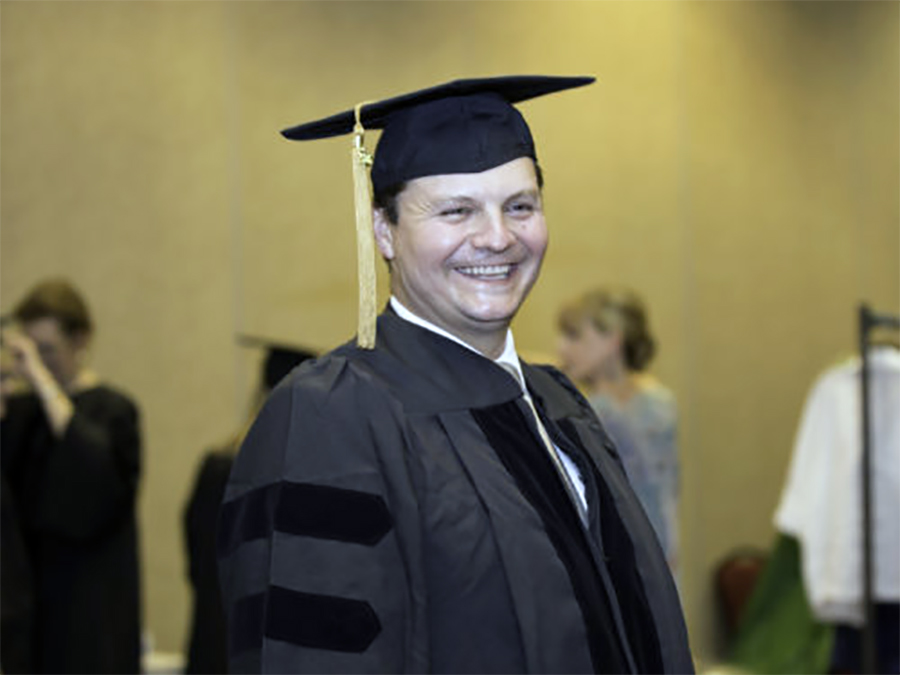 "At Fielding, I learned a lot about social justice, equality and tranformative learning that have had an impact on my teaching."
named 'Inspiring Professor' at Tecnologico de Monterrey university, Mexico.
Fielding's administrative offices are located in two lot-adjacent office buildings in beautiful Santa Barbara, California. To enrich your educational experience, many of Fielding's programs hold face-to-face events throughout the year in different regional locations. Our Academic Conferencing & Events Department contracts with hotels and other educational spaces such as retreat centers to provide suitable spaces for your learning and engagement with faculty.
Join Over
7,500 Fielding Alumni
Located Around The World!
Change the world. Start with yours.™
*All Fields are required. By submitting this form, you agree to be contacted regarding your request and are confirming you agree to our Terms of Use and Privacy Policy.