Student Advising
As a student at Fielding, you may need advice in order to continue progressing smoothly through your program. Your administrative resource for answering questions about the program is the advising office.
Each program has an assigned Graduate Program Advisor who specializes in the requirements for that program.
The Graduate Program Advisor works in partnership with your program and other administrative staff to provide you with accurate and timely support.
Among other topics, your Graduate Program Advisor can provide advising for the following:
Student program planning/scheduling to meet degree and tuition milestones
Policies and procedures
Program requirements
Academic progress requirements and reviews
Taking time off from your Fielding program
Re-enrolling to continue your program after a withdrawn period
Services for students with disabilities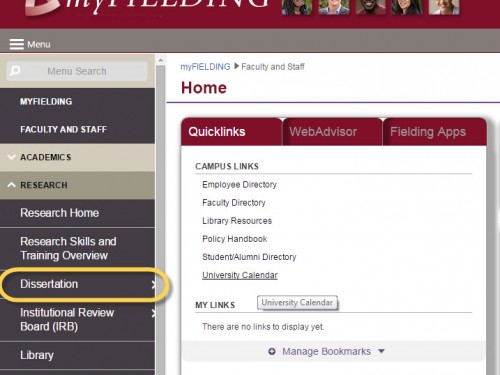 Self Service Advising
You want information about your program when you want it, not necessarily when we are in the office to provide it. To meet this need Fielding offers a number of Self Service tools to allow you to access up to the minute information about your degree progress.
Current Students: login to myFIELDING
Meeting with Advisors
The advising office is made up of a dedicated, professional staff of graduate program advisors. We are available by email, phone and Zoom video conference to meet with you regarding your degree progress. At the national sessions you can make an appointment to meet with your advisor face-to-face- a great opportunity to do a progress check-up!
Current Students: login to myFIELDING