Understanding the Frontal Lobe of the Brain: Fractioning the Prefrontal Lobes and the Associated Executive Functions
In this book, Drs. Soper, Comstock, Kissinger and Drorit Gaines argue that the frontal lobes function much like the conductor of an orchestra: the job of organizing each section of the orchestra to produce a cohesive result, namely the music. If the conductor is impaired in some way the various sections of the orchestra may still possess the ability to create music, but without the direction of the conductor the result may very well be unorganized cacophony (Goldberg, 2009).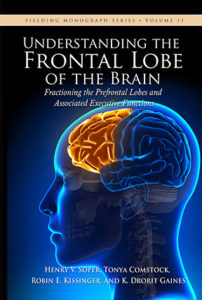 Thus, study of executive functioning as a phenomenon of the frontal areas holds promise for practical application to real-life problems. Indeed, there is currently a dearth of executive functioning therapies available for those impacted bydamaged frontal lobes or connecting pathways (Levine et al., 2011). This book is an attempt to map these executive functions through fractionation, which allows us to consider unique contributions of each functional-structural unit, which ideally fosters a better understanding of the system as a whole.
About the Authors
Henry V. Soper, Ph.D. is a member of the doctoral faculty in the Clinical Psychology program of Fielding Graduate University. He has two NIH Postdoctoral Fellowships (ADAMHA) and (NIMH), and served as Chief Fellow, Neuropsychology, at the University of California, Los Angeles. He is also a Fellow of the National Academy of Neuropsychology and Psychonomic Society.
Drorit Gaines received her Ph.D. from Fielding Graduate University in Clinical Psychology, with a specialization in Clinical Neuropsychology and completed her post-doctoral experience in neuropsychology at the Veterans Affairs of Greater Los Angeles and UCLA Longevity Center.
Robin E. Kissinger, Ph.D., is a licensed clinical psychologist, who serves as the Postdoctoral Autism Fellow at The University of Southern California, Keck School of Medicine,  and the University Center for Developmental Disabilities at Children's Hospital, Los Angeles (CHLA).
Tonya Comstock received her Ph.D. from Fielding Graduate University in Clinical Psychology, emphasizing in Neuropsychology, and has a practice in Seattle focused on helping patients with chronic pain.
Published December 17, 2017

ISBN-10: 0986393088
ISBN-13: 978-0986393082