Expressions of Phenomenological Research
By David Rehorick and Valerie Bentz, Editors
In many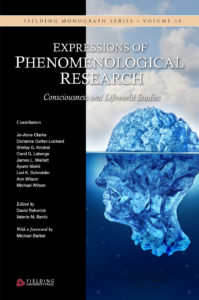 ways, Fielding served as one of the cradles of phenomenological research — the study of how people make sense, and extract meaning, from phenomena in their lives. This book pays homage to the tradition of qualitative phenomenological research by embracing the research projects of nine graduate scholar-practitioners, which demonstrate the applicability of phenomenology and hermeneutics for their professional practice and personal lives.
This book, the tenth monograph by Fielding University Press, is dedicated to the topic of phenomenological research across a broad range of scholarly practice, edited by Professors David Rehorick and Valerie Bentz, who have spearheaded phenomenological research at Fielding for more than two decades. The foreword was written by Michael Barber, Professor at Saint Louis University's Department of Philosophy, while Casandra Lindell served as associate editor.
The book includes the following chapters:
James Marlatt explores the executive coaching relationship, drawing on concepts from Schutz to Kurt Wolff.
Shirley Knobel examines the lifeworld of Nelson Mandela through a deep dive into his personal letters and archived documents.
Jo-Anne Clarke uses a Schutzian lifeworld lens to study women as sustainability entrepreneurs.
Carol Laberge situates individual experiences of heart attack at the center of the nursing healthcare narrative.
Lori Schneider builds upon Heidegger's conception of place to display the meaning of work, home and life for remote workers.
Ayumi Nishii displays how trying to understand Heidegger changed her sense of self and the meaning of servant leadership.
Dorianne Cotter-Lockard reveals new understandings from a study of the collaborative relationship within chamber music ensembles.
Michael and Ann Wilson generate a creative bridge between phenomenology, hermeneutics, and they way socially innovative community projects for citizens in need can be forged.
In addition, an in-depth analytical review of seventy-six doctoral dissertations reveals three distinct methodological contributions—"phenomenologically-based," "-oriented," and "-inspired"— to the study of consciousness and the sociocultural lifeworld.
About the Authors
David Allan Rehorick, PhD (Senior Editor) is Professor Emeritus at the University of New Brunswick (UNB), Canada where he taught from 1974 to 2007. He is also Professor Emeritus at the Fielding Graduate University, serving as Research Consulting Faculty (1995–2006), then full-time faculty (2007–2012). He has served on six editorial boards of academic journals, including Review Editor of Human Studies: A Journal for Philosophy and the Social Sciences.
Valerie Malhotra Bentz, Ph.D. is a professor at Fielding Graduate University and director of the Somatics, Phenomenology, and Communicative Leadership (SPCL) concentration, and previously served as associate dean for research. She previously taught at Texas Woman's University, was editor of Phenomenology and the Human Sciences (1994-1998), and served as president, board member, and co-chair of several professional associations.

Published June 28, 2017
ISBN-10: 1548452009
ISBN-13: 978-1548452001