Clinical Health Psychology: Cultural Perspectives (Volume 9)
A growing body of research suggests that clinical health psychology practitioners should always be mindful of the cultural context in which their services are provided. Indeed, in our modern and diverse society, cultural considerations are key factors in strengthening the provider-patient relationship, and in enhancing adherence to the provider's treatment plan.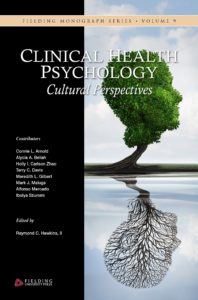 The purpose of this book, then, is to illustrate the value of health psychology as seen through the prism of cultural factors, based on dissertation research by eight graduates of Fielding's clinical psychology Ph.D. program.
Meredith Gilbert's dissertation introduces an important clinical health psychology topic: eating disorders; body image; and emotional awareness.
Alfonso Mercado's chapter explores the effects of acculturation stress on the substance use habits of Mexican American and Mexican adults.
Ibolya Szuromi's research tested a sophisticated adaptive systems model for pain disability prediction, as influenced by trauma exposure and attachment style.
Mark Maluga's chapter offers a quantitative analysis of the ways that participants infected with HIV coped with their disease, with a qualitative analysis of spiritual and religious facets.
The chapter by Alycia Bellah (co-authored by Connie Arnold and Terry Davis) discusses a controlled research study of African-American women who were recommended to have mammography exams to detect and prevent morbidity and mortality from breast cancer.
Holly Carlson Zhao's chapter addresses the development of dementia, based on her findings that maintaining good oral health through regular dental checkups is associated with better memory function in older adults.
As such, this book aims to illustrate the importance of the cultural context when considering the interaction of clinical psychology and health intervention.
The editor, Raymond C. Hawkins II, PhD, ABPP, has been a core faculty member in the Clinical Psychology Program at Fielding Graduate University since 2004. Currently he is also a clinical assistant professor in the University of Texas at Austin Psychology Department, and served as Director of the UT Clinical Psychology Training Clinic.

Published October 20, 2016
ISBN-10: 1539658503
ISBN-13: 978-1539658504