Inclusion Council
Supporting Fielding's commitment to a diverse and inclusive culture
For many decades, Fielding community members have been engaged in scholarship and practice that leads to positive social change. This work includes advancing our commitment towards a more just, humane, and inclusive society.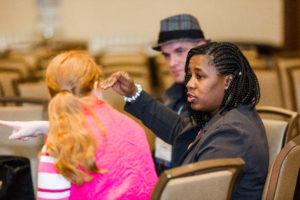 In support of Fielding's strategic plan and on the recommendation of the Diversity and Social Justice work group, the Fielding Inclusion Council was created on the foundation of the Building Inclusion Strategic Plan that serves as the roadmap to making the university more inclusive and diverse.
Council members represent the diversity of the Fielding community across different demographics, constituencies, schools, and programs. The council exists to support the university's commitment to embed diversity and inclusion into the culture.
As part of this work, President Rogers appointed Fielding's inaugural Chief Diversity Officer Tomás Leal, in February 2019 to lead these efforts across the institution.
For more information, contact inclusion@fielding.edu.