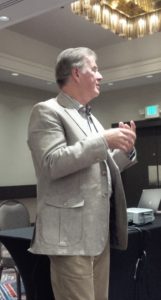 At the of August in Seattle, Washington, the Fielding Northwest Hub, a regional group of students, alumni, and faculty, held a second successful event for 2016 bringing together faculty, alumni, current students, and friends of Fielding at the Hilton Seattle. Faculty member Rich Appelbaum, PhD, spoke on the evolving world of social responsibility and how to balance both corporate and societal needs. Following Dr. Appelbaum's presentation, faculty member Keith Melville, PhD, spoke about the first book published by the Fielding University Press: A Passion for Adult Learning: How the Fielding Model is Transforming Doctoral Education, of which he was the author.
True to the goal of being cross-disciplinary in their approach to Northwest Hub events and building on the successful June leadership summit
event held in Vancouver, Canada, three alumni from different areas of study were invited to speak of their recent work. Following the presentations, small group work and networking opportunities allowed the participants to share their interests and build new connections.
Anyone who would like to get involved in with the Fielding Northwest Hub or want more information, please contact Dawne Bringeland at dbringeland@email.fielding.edu.
Join Over
7,500 Fielding Alumni
Located Around The World!
Change the world. Start with yours.™