Social Transformation Projects Spotlight Our Service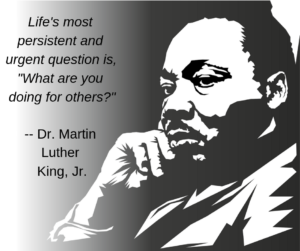 Dr. Martin Luther King Jr. was many things: an activist, a minister, a great orator, and an icon of the Civil Rights movement – but above all, he was a man of service, and inspired others to be the same.
In his honor, we celebrate the ways in which Fielding students, alumni, faculty, and staff serve their communities, whether local, regional, or global. One great example is Fielding's grant-funded Social Transformation Projects (STPs), which encourage research that supports social change.
Here are some of the projects:
Enacting Collaborative Leadership in Older Adults and Youth
Primary investigator: Theresa Southam, student
Establishing a Fielding-affiliated Intergenerational Learning Institute Chapter; program development; community building
A Training Workshop: Implicit Bias Towards Infants & Toddlers With Disability-Related Diagnoses
Primary Investigator: Robin Lynn Treptow, PhD, alum
Curriculum Development, Multicultural Training, Research, Implicit Bias training
Moving from Invisibility to Visibility: Empowering African-Americans to Become Agents of Change
Primary Investigator: Jamel Burroughs & Amanda Armstrong, students
Focus group; Interactive psychoeducational discussion (on invisibility syndrome); community project
Building Cultural Understandings
Primary investigator: Christina (Tina) Lawrence, student
Curriculum Development, Multicultural Training
The Folk School Alliance Community of Practice: Creating Spaces for Social Transformation
Primary investigators: student Dawn Murphy/alum Vicky Eiben, EdD/faculty David Willis, PhD
Community building/development/empowerment through Folk Education, Popular Education, and Web 2.0 Community of Practice; Video, audio, and print media production
Awarded $200K federal research grant through Corporation for National and Community Services to study folk schools
Bay Area Action Research Collaborative in Clinical Psychology and Leadership Studies
Primary investigator: faculty Lauren Mizock, PhD & Margo Okazawa-Rey, EdD
Community Engagement; Social Justice; Activism
LGBT+ Mentoring Across Generations
Primary investigator: Tom Hayashi, PhD, alum
Intergenerational mentoring among men in the LGBTQ community
Peace Building With Young Children
Primary Investigator: Joshua Feder, MD, faculty
Program Development, Research, Cross-cultural training
Women Developing Women's Intercultural Leadership and Agency Project – Pt. 2
Primary Investigator: Charlyn Green Fareed, PhD, alum
Coaching, Group Dynamics, Peer Leadership Coaching and Development, Women's Development
Diversity Immersion for Social & Economic Transformation
Primary Investigator: Susan Gallant, EdD, faculty
Diversity training, program development, coaching