We have some fun news: Beginning at 8 a.m., January 6, both sides of lower State Street will be festooned with colorful Fielding flags!
Fielding Graduate University has joined Downtown Santa Barbara's State Street Flag Program with three brightly hued flags featuring artistically rendered images of actual Fielding graduates — in festive colors from Fielding's new website.
To celebrate this expression of university spirit, we're holding a Fielding flag photo contest for Fielding staff, students, faculty, and alumni — with great prizes for the winners!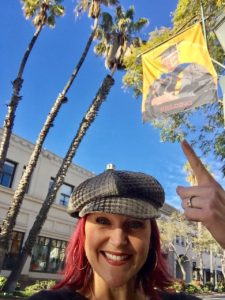 Our 130 flags will fly through Thursday, Jan. 12. To take part in the contest, snap a photo of yourself on State Street during that time with a Fielding flag flying visibly in the background. Then post it to Facebook or Twitter* with the hashtag #FieldingFlags by noon PST on Friday, Jan. 13.
(On Facebook, make sure the post's privacy is set to "public" or we won't see it! If you're not on social media, you can email it to Starshine Roshell, Fielding's associate director of media and communications, at sroshell@fielding.edu — but only photos posted on social media are eligible for the Most Creative prize.)
Prizes will be awarded in the following categories.
Staff Winner: A photo will be selected at random from all staff submissions, and the selected entrant will win a fancy but easy-to-use digital photo frame with high-resolution LCD screen to display your photos!
Faculty/Student/Alumni Winner: A photo will be selected at random from all submissions by faculty, students, and alumni, and the selected entrant will win a $50 Amazon gift card!
Most Creative:  Our Staff Council leaders will judge the most creative photo from all submissions, and the selected entrant will win a popular Wacom photo-editing tablet that works with Mac or PC!
Good luck — and remember to check the Fielding Facebook group page and Twitter feed to see your fellow Fielding folks' flag photos (say that 10 times fast!).
Join Over
7,500 Fielding Alumni
Located Around The World!
Change the world. Start with yours.™