In 2001, UNESCO adopted the Universal Declaration on Cultural Diversity and in December 2002, the UN General Assembly declared May 21 to be the World Day for Cultural Diversity for Dialogue and Development. More Info
by Tomás Leal, Chief Diversity Officer
"Latinx, womxn, afrofuturism, white fragility, and colorism" are among 300 new words recently added by Dictionary.com, many of which the organization says "spotlight more inclusive and empowered identity and cultural terms that have gained traction in recent years." These changes in our language serve to embrace and acknowledge the inevitable and rapid changing demographics in the US and globally.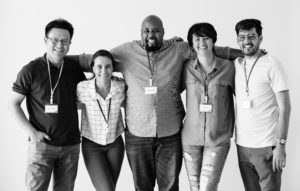 As a Latino gay man and someone who has worked in the diversity and inclusion space for decades, these additions are personally affirming. They add light and credibility to my reality and personal experience. The world I grew up in demanded that I change and fit in if I wanted to be accepted. I still hear comments like, "They're only words–what's the big deal?" Well, these words are powerful and can send a strong message that can be either dismissive or engaging.
Language that is inclusive and honors the realities and experiences of diverse communities connects us. And provides a vehicle by which we can gain cultural understanding and competence. It builds more meaningful relationships in our personal and professional lives, which ultimately will yield more productive, creative and collaborative communities.
In institutions of higher learning, language is of particular importance as colleges and universities aspire to be the places for robust discourse. It is during the college experience that many people begin to question assumptions and think more expansively. Inclusive language means that we are intentional in the ways in which we talk to each other. Through such language, we can strengthen our teaching and learning practices.
Changing our vocabulary is difficult. With the rise of non-binary pronouns, I personally struggled with getting it right. Though I was committed to addressing people with pronouns that acknowledged gender identity, it felt awkward and quite counter-intuitive to what I was taught and what I was used to. But my respect for individuals who do not identify with either gender, or who identify with both genders, overrides any hesitancy or feelings of discomfort I may have had with making this change.
Leaning into any discomfort caused by these new words is a good start to understanding them as you hear them, even if you're not ready to say them. Oftentimes it helps to ask someone, a neighbor or colleague, how they feel about the term that includes them. Sharing each other's stories can help us see the power of words and their impact on us individually and on the communities where we live and work.
WORDS IN THE TITLE OF THIS ARTICLE
Latinx: of or relating to people of Latin American origin or descent, especially those living in the United States (used in place of the masculine form Latino, the feminine form Latina, or the gender-binary form Latin@).
Womxn: a woman (used, especially in intersectional feminism, as an alternative spelling to avoid the suggestion of sexism perceived in the sequences m-a-n and m-e-n, and to be inclusive of trans and nonbinary women).
Afrofuturism: a cultural movement that uses the frame of science fiction and fantasy to reimagine the history of the African diaspora and to invoke a vision of a technically advanced and generally hopeful future in which black people thrive: this movement is expressed through art, cinema, literature, music, fashion, etc.
White fragility: the tendency among members of the dominant white cultural group to have a defensive, wounded, angry, or dismissive response to evidence of racism.
Colorism: differential treatment based on skin color, especially favoritism toward those with a lighter skin tone and mistreatment or exclusion of those with a darker skin tone, typically among those of the same racial group or ethnicity.
DEI at Fielding Graduate University
Fielding Graduate University has a strong commitment to diversity, equity and inclusion (DEI) from our earliest beginnings in the early 1970s. With the founding focus of providing doctoral education to mid-career adults, we offered graduate experiences specifically designed for people who had been left out of traditional education. At that time, graduate education was primarily for the younger, relatively inexperienced male adult, usually white, who was able to forego full-time employment and to relocate his family, if he had one, for several years to pursue a PhD. In contrast, Fielding's distributed model built on students' professional expertise, allowing them to remain in their communities and work settings. We hired scholar-practitioner faculty who lived and worked in the communities where our students were located.
Since that time, diversity, equity and inclusion remain an active process that requires continuous commitment to promote collaborative learning and change through attracting, retaining, graduating and honoring a more diverse population of students, faculty, staff, alumni and community friends. Social and ecological justice is part of our explicit commitment to understanding, analyzing and acting to reduce inequality, oppression and social stratification, recognizing the linkages between economic, social and ecological justice. The university strives to ensure that DEI are embodied in all academic programs including course content, faculty, staff and student performance, assessment and accountability. We challenge our community to think boldly and take specific actions that are realistic and measurable.
About the Author
Tomás Leal, CDO, is an experienced change strategist and a diversity, equity and inclusion practitioner and consultant. He has worked across organizations to develop and execute global strategies and training that support workforce initiatives resulting in inclusive, high performing and innovative work environments. His focus is on diverse global talent management, D&I coaching, learning and training, inclusion strategies, inclusive leadership, gender equity, and cross cultural competency building. Most recently he was Senior Director and Global Inclusion Strategy Lead for Research & Development at GlaxoSmithKline (GSK). Tomás has held diversity and inclusion roles based in the U.S. and the U.K. with Amoco, Royal Dutch Shell, British Petroleum, ITT Corporation, Microsoft, and GlaxoSmithKline. He has developed and delivered learning and development training programs, specifically in unconscious bias, inclusive leadership, race and racism, sexual orientation, trans, and gender differences. He has spent 19 years in university administration at several U.S. universities including Southern Methodist University, University of Delaware, and the University of Pennsylvania. Tomás has degrees from the University of Texas at Austin and Indiana University-Bloomington. He has also completed the Diversity Management Certification from National Training Laboratories (NTL) and NTL's master class, Inclusion & Diversity: Moving to the Next Level of Impact. Tomás was formerly a Public Trustee for the Fielding Graduate University. He is fluent in Spanish and English.
Inclusion Council
Fielding's Inclusion Council provides strategic guidance to the CDO, Office of the President, and Office of the Provost on matters related to DEI.
Join Over
7,500 Fielding Alumni
Located Around The World!
Change the world. Start with yours.™