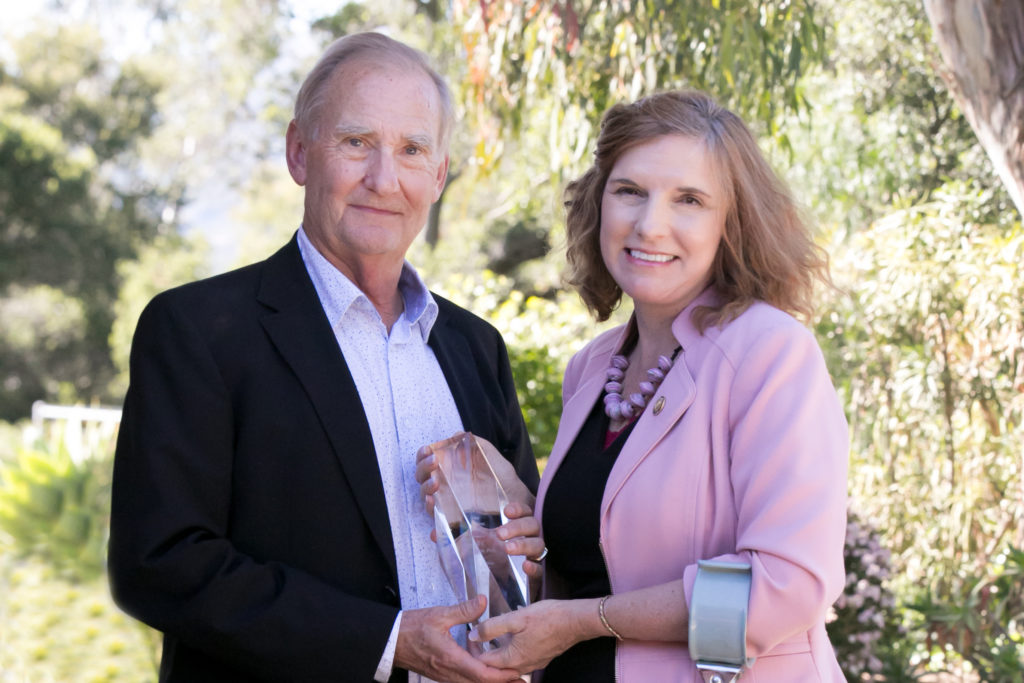 Clinical Psychology faculty member receives kudos on retirement
Longtime faculty member Kjell Rudestam, PhD, is being honored with a Lifetime Achievement Award for Distinguished Service to Fielding upon his retirement this term.
The award is given on rare occasions to people who have made singular contributions to the institution. Kjell served as Clinical Psychology faculty for 35 years and was nominated for the distinction both by peers and Program Director Marilyn Freimuth, PhD.
In addition to your significant work with a generation of clinical psychology students, you also played a key role in upholding the highest standards for the academic program itself and advocating for its existence with APA, reads the letter of commendation from President Katrina Rogers, PhD (pictured above with Dr. Rudestam). From helping to craft the program's curricula to ensuring the highest academic quality, your leadership will continue to impact our students long after your retire. In addition, your scholarly contributions to our understanding of pedagogy in distributed environments was critical in enhancing Fielding's reputation. At the university level, your leadership was also evident in the chairing of the 2006 strategic planning process as well as consistently serving on committees related to educational effectiveness. 
"I am deeply grateful to be honored by Fielding in this way," Kjell says. "My long-term commitment to Fielding has been a labor of love and I will forever value our community and the students and colleagues who have enriched my life."
He will continue to see patients in his private practice in Santa Barbara, and we hope to see him at future Sessions!
Join Over
7,500 Fielding Alumni
Located Around The World!
Change the world. Start with yours.™