Why a Coaching Symposium?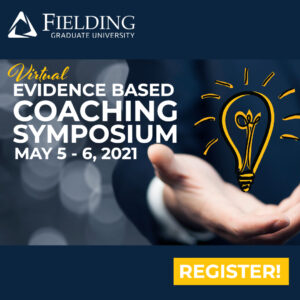 2020 brought a new wave of virtual conferences, events, meetings, and gatherings. Many, myself included, have begun battling and mitigating what many are calling Zoom fatigue or virtual hangovers. We now relish the idea of a phone call that allows us to get up and move around our homes or outdoor spaces. Before 2020, few considered time on the phone all that appealing.
The way we work continues to be different—awkward, and 2021 has not brought the swift return to whatever we deem 'normal' as quickly as we all hoped. So why is Fielding Graduate University hosting a  Coaching Symposium now?
Quite simply, we cannot wait.
If the world's coaches have learned anything, it is how essential human connection is during challenge and change. We have learned the vital need for strong leadership and the moral imperative of having a heard voice. Executive, leader, and professional clients seek expert coaches to help them make sense in a world that often feels senseless. For coaches to be a successful resource in this significant human development space, we must consistently focus on our own.
A Symposium, unlike a training or typical conference, allows the attendees to be in connecting conversations. We have a fantastic lineup of Keynotes (Bob Anderson, Robert Biswas-Diener, Margaret Moore, Sally Helgesen, and Jeffrey Hull). They each bring unique research and ideas that inform us of new ways to approach our work as coaches, but most importantly, they will create space to think.
The Panels of Professionals, Keynotes, and Symposium Sponsors all work in coaching science and best practice. They intend to create room for questions and answers, real-time learning, and reflection. If you are curious about coaching for social change, or how to be a better team coach with a partner, or perhaps you are interested in learning how to prepare for your Master Certified Coach credential, these are the conversations that Fielding Graduate University will host at our upcoming Symposium. You can explore the Agenda and learn about all the sessions.
We also welcome you to submit a poster about your coaching research or coaching best practices. I am consistently amazed at the blogs, articles, new models, and books that coaches share with the world. A poster presentation is a beautiful way to communicate your hard work, research, and scholarship with others in a short and concise format. Do not confuse scholarship with PhD. Here at Fielding Graduate University, we believe any reflective practitioner who focuses on their own education is a scholar. If you have something to share, we want to know about it. Consider submitting a poster, and you can learn how to do that here.
On May 5-6, 2021, an attendee at the Coaching Symposium will learn something new, shed an old way of thinking, create a connection with a new colleague, or perhaps make a life-changing decision. That decision may have a ripple effect with an immeasurable contribution. I invite you to be one of those attendees. We plan to make the virtual experience on Zoom feel as if you are in the room! Please Register and get ready for what is bound to be a collectively powerful experience for all who attend!
Join Over
7,500 Fielding Alumni
Located Around The World!
Change the world. Start with yours.™