WEBINAR – Two Deadly Viruses: Racism and COVID-19
Online - Pacific Time
July 1, 2020, 4:00 pm – 5:30 pm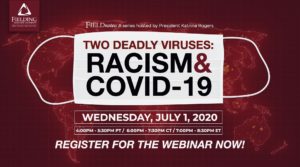 The intersection of racism and the COVID-19 pandemic are impacting everyone culturally and socially. Social and ecological justice are part of Fielding Graduate University's explicit commitment to reduce inequality, oppression and social stratification. The deadly COVID-19 virus has impacted the Asian/Asian American, Black/African American, Indigenous and Latinx communities at higher proportions than white communities. The recent murders of Black men by white police officers are examples of incidents of blatant racism. These two viruses mandate a call to action for our communities' role and responsibility to address these issues. These topics will be the focus of our panel presentations and conversation.
Chief Diversity Officer Tomás Leal is an experienced change strategist and a diversity, equity and inclusion practitioner and consultant. He has worked across organizations to develop and execute global strategies and training that support workforce initiatives resulting in inclusive, high performing and innovative work environments. His focus is on diverse global talent management, D&I coaching, learning and training, inclusion strategies, inclusive leadership, gender equity, and cross cultural competency building. Most recently he was Senior Director and Global Inclusion Strategy Lead for Research & Development at GlaxoSmithKline (GSK). Tomás has held diversity and inclusion roles based in the U.S. and the U.K. with Amoco, Royal Dutch Shell, British Petroleum, ITT Corporation, Microsoft, and GlaxoSmithKline.
Dr. Tom Hayashi is a thought leader with over 20 years of senior management and consulting experience in the corporate, nonprofit, and government sectors.    He identifies as cis gay Asian Pacific Islander (API), immigrant, former foster youth.  Dr. Hayashi's career includes serving as the Executive Director for OCA-APA Advocates a national civil rights organization representing the API communities.  In 2018, he was appointed as the  Chair of the Department of Leadership and Management (DLM) at Saybrook University.  He is an alum of the PhD in HOD at Fielding Graduate University.
Dr. David Blake Willis is a professor of anthropology and education at Fielding Graduate University and professor emeritus of anthropology at Soai Buddhist University, Osaka, Japan. He taught and did research at the University of Oxford and was Visiting Professor at Grinnell College and the University of Washington. His scholarly work includes Sustainability Leadership with Fred Steier and Paul Stillman (2015); Reimagining Japanese Education: Borders, Transfers, Circulations, and the Comparative with Jeremy Rappleye (2011); Transcultural Japan: At the Borders of Race, Gender, and Identity with Stephen Murphy-Shigematsu (2007); and Japanese Education in Transition 2001: Radical Perspectives on Cultural and Political Transformation with Satoshi Yamamura (2002).
Zabrina Epps has been in the Human and Organizational Development (HOD) program since fall 2014. She has served as a student member of faculty governance (Personnel and Faculty Development committee) and as a student anchor for new student orientation (NSO). Zabrina is also a fellow with Fielding's Marie Fielder Center for Democracy, Leadership and Education and a collaborator and contributing thought leader with the Building Inclusion Council and Chesapeake Cluster in the Washington metropolitan area.
Zabrina served two terms on Faculty and Staff Senate at the Community College Baltimore County where she contributed to the redesign of a more equitable governance structure, the implementation policy to integrate the LMS in all courses and strategic planning sessions with the executive leadership.
Jolena Burns is a member of the Navajo Nation Tribe. She is Under His Covers Clan born for the Bitterwater Clan. As a Fielding Graduate student, she is studying educational practices on the Navajo Reservation. Currently, Jolena is a Principal in a public Pre-Kindergarten to 2nd Grade school.  Her educational background includes an Elementary Education Bachelor of Arts Degree from Northern Arizona University and a Masters of Arts Degree in Administration and Supervision in Education.  Before transitioning into Principalship she was a teacher for 7 years.
Dr. Katrina Rogers is the President of Fielding Graduate University. She previously led the European campus for Thunderbird School of 
Global Management in Geneva, Switzerland, for a nearly decade, working with international organizations and companies. Her field is political science with a specialization in global environmental policy. In addition to a book and many articles, she has served as a trustee for many non-profit organizations. Dr. Rogers first came to Fielding Graduate University in 2005 as the director of the Institute for Social Innovation. She was also the associate dean of Fielding's School of Human and Organizational Development. In 2011, Dr. Rogers was appointed provost and named president in November 2013.