Neuropsychology Specialization Training Program – Information Session Webinar
June 14 @ 3:00 pm

-

4:00 pm

PDT
Neuropsychology Specialization Training Program Information Session Webinar
Extend the scope of your assessment practice and treatment interventions. 
Fielding's Neuropsychology Specialization Training Program program provides psychologists with formal instruction in neuropsychological foundations, theories, and assessments in preparation for practice as neuropsychologists.
Join faculty member Elkhonon Goldberg, PhD for a discussion on earning your Postdoctoral Certificate in Neuropsychology at Fielding. In this webinar, we'll identify key attributes of our program and what distinguishes our program from the rest. We will outline our program components, as well as discuss our educational model. Lastly, we will wrap up the webinar with a question and answer session.
Program Benefits:
Expand your practice and increase your income
Complete many requirements towards board certification
Learn neuropsychological foundations, theories, and assessments
Acquire hands-on experience in neuropsychological evaluation
Study with renowned faculty
About the Presenter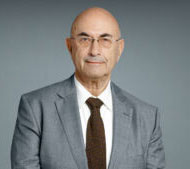 Elkhonon Goldberg, PhD, is an author, scientist, educator, and clinician, internationally renowned for his clinical work, research, writings, and teaching in neuropsychology and cognitive neuroscience. He is a Diplomate of The American Board of Professional Psychology in Clinical Neuropsychology and Director of Luria Neuroscience Institute. A student and close associate of the great neuropsychologist Alexander Luria, Elkhonon Goldberg has continued and advanced his scientific and clinical tradition.
Share This Event!
Join Over
7,500 Fielding Alumni
Located Around The World!
Change the world. Start with yours.™
*All Fields are required. By submitting this form, you agree to be contacted regarding your request and are confirming you agree to our Terms of Use and Privacy Policy.