Icon receives Medal for Social Transformation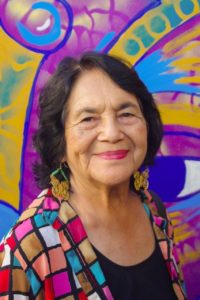 Legendary activist and civil rights icon Dolores Huerta drew hundreds of people from both the Fielding and Santa Barbara community on Jan. 10, when she came to Winter Session to accept the university's Medal for Social Transformation.
"You can make a difference, but you have to speak up and you have to be ready to sacrifice," Huerta told the sold-out crowd during a Q&A panel that included (L-R below) Santa Maria teacher Eunice Gonzalez, the daughter of farmworkers and a recent MA graduate of Brown University; Marcos Vargas, executive director of The Fund for Santa Barbara; and Eva Catalan, a youth organizer at Future Leaders of America. A Spanish-language interpreter was on hand to translate the program live, and Santa Barbara Chicano poet Miguel Cruz gave a powerful, spoken-word performance of his work, "Welcome to Amerikkka" that drew a standing ovation.
As reported by Noozhawk:
[Ms. Huerta] answered questions about her career as an activist as well as questions about immigration, climate change, civil and women's rights, the fight for educational justice and other issues.

Huerta urged attendees to organize to attain social justice in local communities, telling the crowd to "get involved and get engaged."

She advocated for lawmakers, legislation and policies that promote the well-being of all people. Huerta supported an increase in the number of women representatives at the local, federal and state levels.

"You can make a difference, but you have to speak up and you have to be ready to sacrifice," Huerta said. "When we say sacrifice, it's not a lot. Just time. Give some of your time to be able to go out there and make a difference."
Dolores Huerta, age 89, is an American labor leader and civil rights activist who, with Cesar Chavez, cofounded the organization that became the United Farm Workers. She has spent her life advocating for workers', immigrants' and women's rights, was the first Latina inducted into the National Women's Hall of Fame and is the originator of the popular protest cry, "Sí, se puede."
She was honored by Fielding's Marie Fielder Center for Democracy, Leadership, & Education, a multidisciplinary research and advocacy center aimed at advancing diversity and inclusion throughout society. It honors the life and legacy of the late Dr. Marie Fielder, an influential African-American educator and champion for social justice who helped found Fielding 46 years ago. Each year, the Fielder Center bestows the Marie Fielder Medal for Social Transformation upon an individual who has made significant contributions to society in social advocacy/activism, research, leadership, education, and/or public service.
Past recipients include:
Patagonia founder Yvon Chouinard
Fielding leadership doctoral faculty Dr. Nicola Smith
University of Michigan Distinguished University Professor Dr. Patricia Gurin
UCLA Distinguished Research Professor Dr. Gary Orfield
American Association of Community Colleges President Walter Bumphus
The event was also covered by the following media:
Fielding would like to thanks the Santa Barbara Independent, McCune Foundation, Fund for Santa Barbara, Santa Barbara Foundation and Mary-Frances Winters for sponsoring our event.
Join Over
7,500 Fielding Alumni
Located Around The World!
Change the world. Start with yours.™