Supporting Fielding's commitment to a diverse and inclusive culture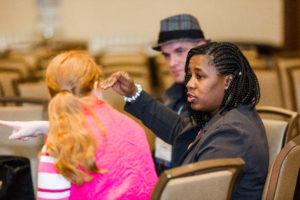 For many decades, Fielding community members have been engaged in scholarship and practice that leads to positive social change. This work includes advancing our commitment towards a more just, humane, and inclusive society.
In support of Fielding's strategic plan and on the recommendation of the Diversity and Social Justice work group, the Fielding Inclusion Council was created on the foundation of the Building Inclusion Strategic Plan that serves as the roadmap to making the university more inclusive and diverse.
Council members represent the diversity of the Fielding community across different demographics, constituencies, schools, and programs. The council exists to support the university's commitment to embed diversity and inclusion into the culture.
For more information, contact inclusion@fielding.edu.
Fielding's administrative offices are located in two lot-adjacent office buildings in beautiful Santa Barbara, California. To enrich your educational experience, many of Fielding's programs hold face-to-face events throughout the year in different regional locations. Our Academic Conferencing & Events Department contracts with hotels and other educational spaces such as retreat centers to provide suitable spaces for your learning and engagement with faculty.

Join Over
6,000 Fielding Alumni
Located Around The World!
Change the world. Start with yours.™