Global Inclusion Council
Supporting Fielding's commitment to a diverse and inclusive culture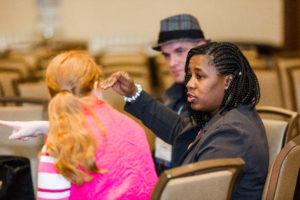 For many decades, Fielding community members have been engaged in scholarship and practice that leads to positive social change. This work includes advancing our commitment towards a more just, humane, and inclusive society.
As a collaborative body, the Inclusion Council both represents and serves in an advisory and consultative capacity to the President in actualizing institutional diversity, equity and inclusion efforts. The role of the Council is to ensure the integrity of the DEI strategic plan by monitoring forward action on priority areas of the plan. These efforts are accomplished by creating space for shared learning and communication regarding cross-institutional efforts; identifying opportunities for collaboration and leveraging resources and expertise; serving as an innovation and learning hub regarding DEI to enhance institutional capacity.
Kathleen Curran
Anthony Greene
Donica Harper
Linda Harris
Hilary Lyn
Elena Nicklasson
Abby Rae
Leesa Riviere
Cece Shantzek
Harry Voulgarakis
For more information, contact inclusion@fielding.edu.
Fielding's administrative offices are located in two lot-adjacent office buildings in beautiful Santa Barbara, California. To enrich your educational experience, many of Fielding's programs hold face-to-face events throughout the year in different regional locations. Our Academic Conferencing & Events Department contracts with hotels and other educational spaces such as retreat centers to provide suitable spaces for your learning and engagement with faculty.

Join Over
7,500 Fielding Alumni
Located Around The World!
Change the world. Start with yours.™
*All Fields are required. By submitting this form, you agree to be contacted regarding your request and are confirming you agree to our Terms of Use and Privacy Policy.