Mentoring and Storytelling Project Aims to Show Our Commonality
This month, at a lunch table in Downtown Los Angeles, unlikely dining companions shared their third meal together: a septuagenarian survivor of the WWII attack on Pearl Harbor alongside a former gang member whose life started in war-torn El Salvador. It was the final sponsored meal of several such new and unlikely sets of friends, brought together through a research project led by faculty member Connie Corley with the help of faculty member and co-researcher David Blake Willis.
Cruzando Puentes is a mentoring and storytelling project spanning generations in Downtown Los Angeles neighborhoods that have seen a lot of change over the decades. The name translates to "crossing bridges" both as a nod to the cement overpasses that span local freeways and aqueducts as well as to the project's purpose: to bridge cultures and generations.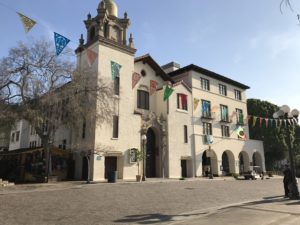 One of three projects that received funding as a Social Transformation Project of Fielding's Institute for Social Innovation, Cruzando Puentes connects older adults with younger employees and trainees from Homeboy Industries — a support organization offering education, counseling, and professional development to men and women who were previously incarcerated or involved in gangs.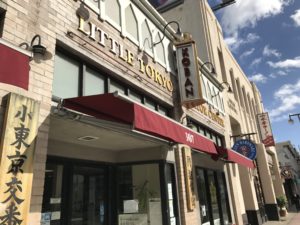 The multigenerational, multicultural pairs meet several times over lunch at Homeboy's Homegirl Café to talk about their lives, as Fielding students observe and interview them.
For example, a 21-year-old father of two, partially paralyzed on his right side from a gunshot wound several years ago, was paired with a 67-year-old man partially paralyzed on the same side from a brain tumor years ago.
"Older adults have often lived through wars and losses, yet many younger adults navigate trauma as well," Connie says. "The idea of breaking bread together is a sharing of commonality. It's really seeing that we're all one people and we can understand each other's backgrounds."
After this month's final meal, the participants were asked about what they learned from one another, and how the experience may have changed their perspective on one another's lives. Their answers will be included in a podcast about the project, presented at professional conferences, and published in journals and blogs.
In another component of Cruzando Puentes, nine Fielding students took part in a three-day ethnographic Intensive in January, immersing themselves in the community by walking Downtown's Boyle Heights neighborhood, touring both Homeboy and Hollenbeck Palms retirement community, watching a documentary about the area along with Hollenbeck residents — and exploring "how to be in the community, even if you're not of the community," Connie said.
"The official topic was ethnography, and yet we also explored self-direction, full cultural emersion and surrendering to the unknown," student Diyana Dobberteen wrote in a paper based on the experience. "Students used a range of strategies and applied creativity as they approached the Fielding learning experience. They focused on a topic of personal interest or developed team-based projects, using a range of strategies to navigate the initial conditions of uncertainty."
First presented at the International Case Management Conference in India in December 2016, the Cruzando Puentes project is funded by Fielding in partnership with California State University, Los Angeles, along with Homeboy and Hollenbeck Palms.
Funds to support expansion of the project are being explored. Intersecting humanities, social sciences, and social services in an educational context in community settings "requires a great deal of flexibility, patience, and openness to serendipity," according to Connie.
David and Connie are exploring offering the Intensive again in 2018, possibly with a virtual component for engaging other communities beyond Los Angeles.
Join Over
7,500 Fielding Alumni
Located Around The World!
Change the world. Start with yours.™